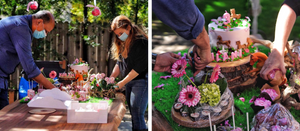 About
From childhood, I always liked drawing and making crafts. I enjoyed decorating dollhouses, and observing my mother while she cooked and made us our favorite desserts. To me, it was purely magical how she created infinite scrumptious treats by combining our ancestral Latin American and Arabic flavors.
My love of art helped me decide to study architecture. I learned about color palettes, scales, and measurements and was able to apply them in my daily life. I gained the tools that helped me integrate my knowledge in a professional manner.
With time, I had the privilege of participating in the lives of my nieces and nephews, and I had the beautiful opportunity to create magical moments for all of them. At first, I just made my nieces hair ribbons. Soon, I was planning fully blown birthday parties. Between piñatas, decorations, treats, and a thousand colors, I glimpsed an expression of indescribable happiness on their faces. I realized that happiness fed the ardor that was missing in my career. I took advantage of my skills and my knowledge of art and studied creative cake artistry. I felt empowered to create real celebrations, rather than simple parties, for all occasions. 
Thus, my passion for art, combined with my ancestral culinary knowledge from my mother, and my love of children, gave birth to PROJECTS BY CLAUDIA. My imagination is my best tool to create a fantastic celebration for each person's very special moments.
Thank you for visiting!